Sai Baba has a unique way of pulling the wires from different directions. No one knows what work Sai Baba entrusts to whom. Today while compiling all the prayers which I requested from devotees to be sent to Shirdi through my friend, it struck me (or say I got a direct order from Sai Baba) to do this job always. Thus from now onwards prayer requests will be accepted from Sai Devotees round the year on my mail id irrespective of who is visiting Shirdi from my side. I will keep a track about who will be visiting Shirdi from my city and thus the prayers will be forwarded to Sai Baba in Shirdi through them.
It would be highly appreciated if the followings points are considered while sending prayers which in turn will help me to serve you better.
1. Please include 'Prayers to Sai Baba' words in the subject line and reference (i.e. my blog, group mails or any other source) through which they came to know, so that it will be easy for me to trace.
2. Please do not send prayers as attachment as the confidentiality of prayers will be maintained even if they are sent in inline text.
3. I am receiving 'repeated' prayers from few devotees on daily basis. I would request those devotees not to send 'repeated' prayers. Prayers once received will be sent to Shirdi as soon as possible. Sending 'repeated' prayers confuses me which ones to include in final prayer bunch since they are not read by me. For repeating your prayers and also to pray for others, a special page is created on this blog and devotees/readers can follow the link to navigate to that page.
4. Prayers can be sent on this submit.saiyugnetwork.com
5. After sending prayers you will get immediate acknowledgement of receipt of prayers from my side only. Acknowledgement for prayers reaching Shirdi will be posted specifically.
I am reminded of a famous Sai bhajan by Paras Jain from the album Mere Ghar Ke Age Sainath Tera Mandir Ban Jaaye "Sainath Tujhe Main Khat Likhta Par Pata Mujhe Malum Nahi…" But now you know the address where you can send your letters/prayers to Shirdi Sai Baba.
Devotees who volunteer to take prayers to Shirdi can also take a coconut in lieu of prayers print outs. It is my personal experience that Shriphal (coconut) has done wonders even if it is offered in a small temple of Sai Baba with pure and clean heart. Then we can imagine wonders if a coconut is sent to Dwarkamai in Shirdi. I came across an article in Sai Leela Magazine depicting the importance of offering coconut. Let me first describe the Leela of Coconut. I have translated the article from Sai Leela Magazine for those who dont know Hindi and attaching a scanned copy of the article directly from Sai Leela Magazine in Hindi for ready reference.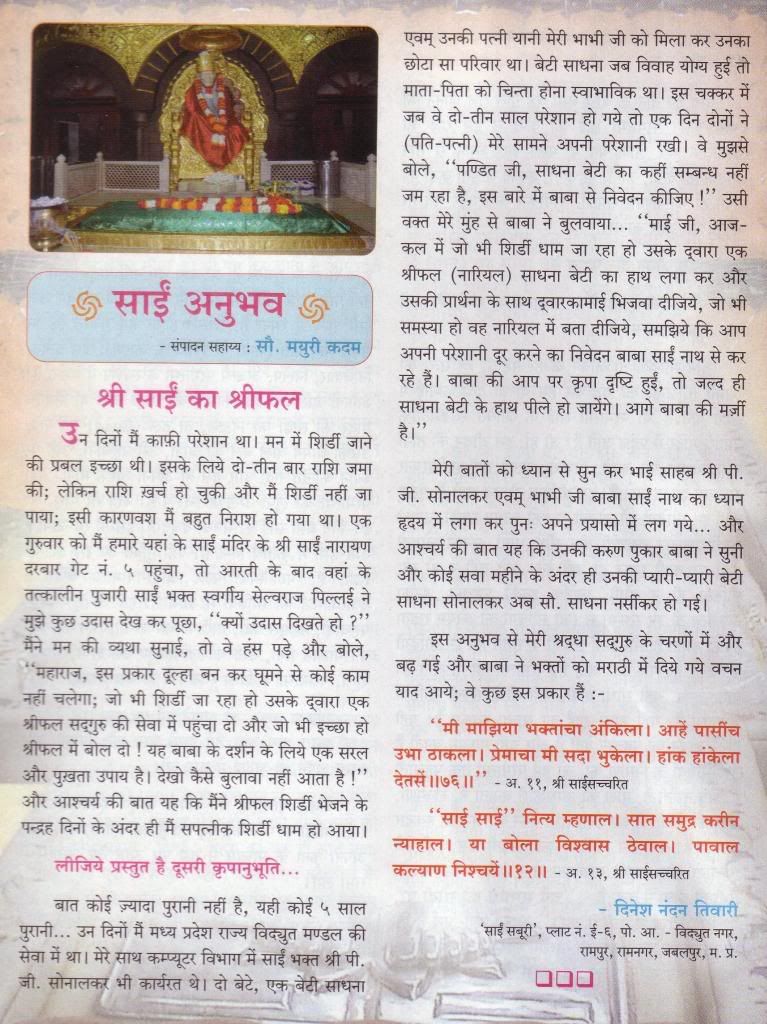 This is a true experience of a Sai Devotee Dinesh Nandan Tiwari of Jabalpur in Madhya Pradesh State. The incident is of during those days when he was troubled. There was a strong desire to go to Shirdi in his mind. He saved some amount about two three times and each time the amount was spent somewhere else. This prevented him from going to Shirdi rather say he was not called to Shirdi. Due to this he became more depressed. Once he went to Sai Temple nearby his house in Shri Sai Narayan Darbar Gate No.5. After arti, immediately poojari asked him the reason for his unhappiness. He opened his heart in front of the poojari, who listened him patiently and gave him a practical solution. He said, "Oh ! There is no use of roaming like a bridegroom, if you really wish to go to Shirdi, pray to Sai Baba mentally by keeping a coconut in front of you and send that particular coconut through any one acquianted to Shirdi. You will definitely get that blessed call! This is the simplest and proved way to go for Baba's darshan."
Needless to say that prescribed remedy was followed and Dineshji went to Shirdi within fifteen days of sending coconut to Shirdi.
Another great incident which clearly proves the significance of coconut and cannot be omitted. The incident is a recent one. Just five years back, the same devotee was serving in Madhya Pradesh Electricity Board. Sai Devotee Shri. P.J.Sonalkar was also serving with him. He had a small family which consisted of the devotee himself, his wife, two sons and a daughter Sadhana. It is obvious for parents to be worried about their daughter's marriage when she attains marriageable age. They were in search of a suitable alliance for her and tried for about 2-3 years, but did not succeed. One day they narrated their problem to Dineshji and pleaded Dineshji to pray on their behalf to Baba. Dineshji lays the entire credit on Baba for what he said to worried parents, "Send a coconut touched by your daughter to Dwarkamai of Shirdi through anyone who is going to Shirdi in one or two days. Whatever is your problem say it to coconut and ask Baba to take care of your problems now. If blessings of Baba are with you, your daughter will be married soon. Leave everything to Baba".
Believing Dineshji's words and having full faith in Baba, Shri P.G.Sonalkar and his wife again started efforts for their daughter's marriage. Within 40 days, their one and only one daughter became Mrs. Sadhana Narsikar from Ms. Sadhana Sonalkar.
Hence now I leave it upto readers discretion to take print outs or coconut to Shirdi for offering prayers of others or both. This can be done easily. Prayers can be spoken to coconut before leaving for Shirdi and it can be placed in Dwarkamai.
Related Posts :
Ask for Free Udi to be delivered at your place.
Acknowledgement of Prayers Reaching Shirdi